[ad name="320×100″]
In addition to the San Diego tourist attractions detailed below, as you plan your vacation or holiday you may want to also consider information about San Diego area beaches, as well as information about San Dieogo museums and the area's amusement, theme and water parks, as well. See the "Related Posts" section at the end of this article for links to articles on those other topics and also to articles about nearby Orange County and Los Angeles tourist attractions.
The first section below will introduce attractions and other place to go, see and have fun in and around the San Diego center city and the downtown area.
Thereafter, attractions in some of the areas in and around San Diego are discussed. If you'd like to skip immediately to those outlying area discussions, you can use these links:
La Jolla
Del Mar, Oceanside and Carlsbad
Balboa Park, San Diego – This is a "must-see," even if its myriad of museums and world-renowned zoo don't interest you. Established in 1868, this is the largest urban cultural park in the U.S. and was ranked among the "Best Parks in the World" by the Project for Public Places in 2003 (13 out of 24). The 1,200-acre gem is home to the San Diego Zoo and a replica of Shakespeare's Globe Theater, as well as multiple gardens, a Spanish-style promenade and about 15 museums (see the museums article linked above). The park is free to enter (although many of the museums require admission), and there are several large parking lots. (balboapark.org)
Cabrillo National Monument & the Old Point Loma Lighthouse – Located approximately 10 miles from San Diego, this location offers superb, panoramic views of the city and is a good place to watch for migrating whales during the winter months. In addition, the National Park Service has refurbished the location's historic 1880s lighthouse, and ranger-led talks, displays and brochures are available to explain its interesting past. (nps.gov/cabr/)
Chicano Park – Located beneath the San Diego-Coronado Bridge in Logan Heights (Barrio Logan), a predominantly Mexican-American and Mexican-immigrant community, this park is home to the world's largest conglomeration of outdoor murals (67), as well as other artworks that celebrate the community's cultural heritage. Like Berkeley's People's Park, Chicano Park was borne of a non-violent, militant community takeover, and every year on April 22 (or the nearest weekend), the anniversary is revered with a "Chicano Park Day" fiesta. (chicano-park.org)
Coronado – This small "island" town is connected to the city by the San Diego -Coronado Bridge. Although best known for the Hotel del Coronado ("The Del"), its numerous parks and beaches make it ideal for enjoying outdoor activities, and its marinas provide even more options – from paddleboats to yachts! (coronadovisitorcenter.com)
Historic Gaslamp Quarter – With buildings dating to the late 1800s (some with a bit of a checkered past), this area is now the place you'll find some of southern California's hottest hotels, restaurants and nightlife. For those who prefer to explore the area during the day, the Gaslamp Quarter Historical Foundation offers maps and information about the area as well as a guided walking tour on Saturdays at 11am. (gaslampquarter.org)
Historic Old Town San Diego – Considered the "birthplace" of California, Franciscan friar Junipero Serra built the first of the state's 21 missions on a hillside overlooking this area in 1769. In the 1820s, a small Mexican community of adobe buildings formed at the base of the hill, and by 1835 it had evolved into El Pueblo de San Diego. Now the site of a state historic park featuring the five original adobes, the complex has an open, "olden-days" feel to it (parks.ca.gov). Presidio Park lies a few blocks north of Old Town, and its lovely grounds offer spectacular views of the bay and harbor. The colorful and vibrant Bazaar Del Mundo ("shopping of the world) is also nearby. (bazaardelmundo.com)
Horton Plaza – This five-level outdoor shopping is adjacent to the historic Gaslamp Quarter and is currently anchored by Macy's and Nordstrom department stores. Named for Alonzo Horton (widely considered to be the founder of San Diego), it was an actual plaza (or park) before it was developed as a shopping center. (westfield.com/hortonplaza)
Little Italy – This ethnic business and residential community has been around since the 1920s and is downtown San Diego's oldest continuous neighborhood-business district. Today, you can find lovely restaurants, lodging and shopping here. If you venture to Amici Park, you may even see residents enjoying a game of bocce ball or, near the court, a monument that pays tribute to marinara sauce, complete with a plate of steel ravioli on a red-checker-clothed table. What fun! (littleitalysd.com)
Mission Basilica San Diego de Alcala – Founded in 1769 by Junipero Serra, this was the first of 21 Spanish missions built in the state. Designated a landmark in the early 1800s, the church still holds mass every Sunday and rings its 200-year-old bell several times a day. The museum and gardens are open daily, 9am-4:45pm. (missionsandiego.com)
Mission Bay Park – About a 10-minute drive from downtown San Diego, this is the largest man-made aquatic park in the country and consists of 4,235 acres (half water/half land) and more than 27 miles of shoreline. Stop by the Visitor Information Center (2688 East Mission Bay Drive), open from 9am to dusk, for exhibits and maps that will help you enjoy the activities this location offers, including SeaWorld Adventure Park. (sandiego.gov/park-and-recreation/parks/missionbay/)
PETCO Park – This architecturally magnificent stadium celebrates the area's natural beauty, cultural diversity and unique spirit and has served as home to the San Diego Padres baseball team since 2004. Public tours are offered, and the venue also hosts events like concerts and the International Rugby Board's World Sevens Series. (petcoparkevents.com)
Seaport Village – This 14-acre waterfront shopping, dining and entertainment complex is set among three distinctive plazas designed to evoke Old Monterey, Victorian San Francisco and traditional Mexico. It includes lots of one-of-a-kind shops, several casual dining eateries and four award-winning, fine dining restaurants. (seaportvillage.com)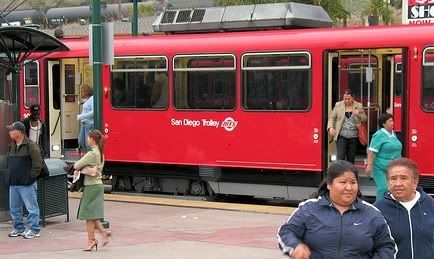 Tijuana, Mexico – The world's most-visited border city is easily accessed from San Diego via the Tijuana Trolley. You can catch it downtown, or at Old Town, La Mesa, even Santee, and it will take you to the San Ysidro crossing. It's about an hour trolley ride to San Ysidro from Old Town; you can find all the details on the San Diego Metro Transit System's website. (Insider Tip: If you plan to ride the San Diego Trolley several times in the same day or if you're going to Tijuana from Old Town or further north, you can save money with a Tripper Pass. You can buy them in one- to four-day versions, and they're also good for all MTS buses.) There are also several companies that offer package tours. (tijuana.com and/or hungryhiker-tj.com)
La Jolla ("the jewel"), about 15 minutes from downtown San Diego, has wonderful beaches, cultural activities and restaurants. You should allow at least one day to enjoy everything this lovely community has to offer.
Children's Pool Beach – At the tip of the La Jolla peninsula, this beach offers panoramic coastline views. Additionally, during much of the year you can see harbor seals and sea lions here, and the Seal Rock reserve is just offshore. The shallow cove, partially protected by a seawall, has small waves and no riptide (hence its moniker), and it is also popular with scuba divers. (sandiego.gov/lifeguards/beaches/pool)
Birch Aquarium at Scripps – Situated on a bluff overlooking the ocean, this complex includes an interactive museum, an outdoor, tidepool "touch tank" and more than 60 indoor tanks that feature the colorful saltwater fish that inhabit Pacific waters from the cold Northwest to tropical Mexico. Additionally, the south wing offers the largest hands-on oceanographic exhibition in the country, "Exploring the Blue Planet." A concession sells food, and there are outdoor picnic tables at which to enjoy the aquarium's picturesque location. (aquarium.ucsd.edu)
Mount Soledad Memorial – First used as a memorial park in 1914, its iconic 29-foot Latin cross was dedicated in 1954 to honor Korean War veterans. Transferred to the Federal Government in 2006 as a national veterans memorial, its 822-foot elevation affords a 360-degree, awe-inspiring view. (soledadmemorial.com)
La Jolla Caves – Over 100 years old, this is a one-of-a-kind attraction. While there are seven caves, only one is accessible by land – the Sunny Jim Cave – and the entrance to it is at La Jolla Cave Store, a coffee bar that displays historic photos and also sells gifts and souvenirs. The tunnel took two years to dig, consists of 145 steps and provides a fascinating glimpse into what lies under the scenic California coastline. The other caves are accessible by kayak, and various local companies offer guided tours. (cavestore.com)
Del Mar Racetrack, Del Mar – About 20 miles north of San Diego, this track offers some of the best thoroughbred horse racing in America. The racing season opens in mid-July, and races are presented six days a week through mid-September. The history-rich track, opened in 1937, was considered the "summer playground to the stars" in the 1940s. It is still the place to be and be seen, and you will see women wearing stylish outfits and hats and some men will be dressed in sportjackets and suits. You'll also see folks in flip-flops and t-shirts, too. (dmtc.com)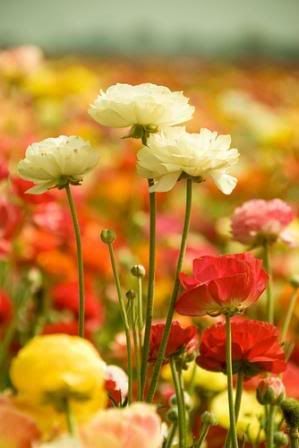 The Flower Fields at Carlsbad Ranch – The largest independent garden center in the western U.S., its 50-plus acres of Giant Tecolote® Ranunculus flowers bloom and band the landscape with their vibrant hues for about eight weeks each March and April. Its 33,000-square-foot, state-of-the-art facility offers seasonal displays and gardening events as well as a retail section stocked with garden accessories, gifts, clothing and garden blooms and plants. (theflowerfields.com)
Leo Carrillo Ranch – This former working ranchero, once owned by actor, preservationist and conservationist Leo Carrillo (1880-1961), contains and protects hand-crafted adobe buildings, antique windmills, a reflecting pool and many other beautiful historic structures. Visitors can enjoy four miles of trails through gorgeous gardens alive with agave, bougainvillea, Birds of Paradise, plentiful trees and dozens of vibrant peacocks. (carrillo-ranch.org)
Mission San Luis Rey, Oceanside – Founded in 1798, this is the largest of the 21 California Missions and includes the state's first pepper tree on its 56 acres. The museum, picnic gardens and gift shop are open daily, 10am-4:30pm. (sanluisrey.org)
Photo of Hotel del Coronado by nalilo via flickr (Creative Commons); Photo of Tijuana Trolley by richardmasoner via flickr (Creative Commons); Photo of Carlsbad Flower Fields by akaporn via flickr (Creative Commons).
[ad name="300x250R"]
Related posts:
San Diego Amusement / Theme Parks
Los Angeles Tourist Attractions
Orange County Tourist Attractions
Note: Information in this article was accurate
when it was published, but hours, prices, etc.
change constantly. Please confirm details
with local contacts before traveling.
Was this article useful and/or interesting?
Would you please consider sharing it?
We appreciate it!