[ad name="320×100″]
In addition to the Los Angeles tourist attractions detailed below, as you plan your vacation or holiday you also may want to review information about the beautiful Los Angeles area beaches, the vast array of museums LA has to offer and the abundant selection of amusement and water parks in the LA area. (And, for your convenience, the preceding links are repeated in the "Related Posts" section at the end of this article.)
The first two sections below will introduce you to some attractions you may want to explore in Hollywood and the Downtown LA / City Center Area. Next up, we offer attractions and other places to go, see and have fun in and around Malibu, Santa Monica and Venice Beaches. Thereafter, attractions in some of the cities near Los Angeles — Pasadena to the north and Long Beach to the south — are discussed.
If you'd like to skip immediately to any of those specific discussions, you can use these links:
Hollywood Tourist Attractions
Downtown LA Tourist Attractions
Malibu, Santa Monica and Venice Beach Tourist Attractions
Pasadena Tourist Attractions
Long Beach Tourist Attractions
El Capitan Theatre – This is Disney's flagship movie theater, and "Jimmy Kimmel Live" broadcasts from here. (disney.go.com/DisneyPictures/el_capitan/)
TCL Chinese Theatre – Most people know this as "Grauman's Chinese Theatre," but it was also called Mann's Chinese Theatre for a time. First-run movies are shown at this renowned theater — it now boasts one of the largest IMAX screens in the U.S. — but most people visit the theater to experience the famed courtyard filled with Hollywood legends' handprints and footprints. (tclchinesetheatres.com/)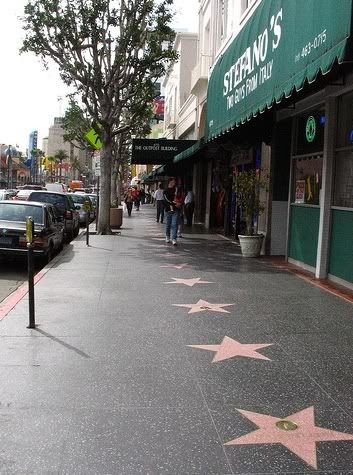 Hollywood Walk of Fame – Don't miss the world's most famous sidewalk (at Hollywood & Vine) embedded with more than 2,000 five-pointed stars featuring the names of human celebrities and fictional characters honored by the Hollywood Chamber of Commerce for their contributions to the entertainment industry. Maintained by the self-financing Hollywood Historic Trust, the walk's first star was awarded on February 9, 1960, to Joanne Woodward. If there's a particular Hollywood Walk of Fame Star you're interested in seeing or photographing, this handy L.A. Times reference may save you some time finding it.
Hollywood Bowl – Officially opened in 1922 on the site of a natural amphitheater formerly known as the Daisy Dell, this is the summer home of the Los Angeles Philharmonic and a popular musical performance venue. (hollywoodbowl.com)
Hollywood Sign – This icon has become one of the world's most evocative symbols – a universal metaphor for ambition, success and glamour. (hollywoodsign.org)
[ad name="300x250R"]
Hollywood & Highland Babylon Court – You may recognize this Hollywood tourist attraction from telecasts of Academy Awards ceremonies held in the nearby Dolby Theatre (which was, until recently, the Kodak Theatre). Modeled after the massive Great Wall of Babylon set from D.W. Griffith's 1916 epic silent film 'Intolerance', the courtyard pays homage to the great director and gives visitors an idea of why he is known to this day for his extravagant sets. The area features full-scale replicas of an archway and two pillar sculptures with rearing elephants on capitals based on the design of those made for the film's set. Interestingly, Griffith's original 1916 set – built at 4500 Sunset Boulevard, at the junction with Hollywood Boulevard – was abandoned by the famous director when he ran out of money. The structure towered over the east Hollywood Silverlake neighborhood for years, decaying bit by bit and becoming hazardous, until it was eventually dismantled in 1919 by the city.
Celebrity Graves (various locations) – Some tourists want to visit the final resting place of a favorite star or entertainer, and some of the better known Los Angeles area cemeteries are Westwood Memorial Park, Forest Lawn Glendale, Hollywood Forever, Holy Cross Cemetery. There's an excellent book, actually — Forever L.A.: A Field Guide to Los Angeles Area Cemeteries & Their Residents — available at Amazon (click the link for more info) to make this sort of exploration easier.
Union Station – A spectacular mix of Spanish Colonial, Mission Revival and Streamline Moderne styles, the main hall retains its original hand-painted ceiling and lavish tile and marble work. Many television shows and movies have incorporated the station as a backdrop, including the 1950 film, Union Station. (metro.net/index.asp)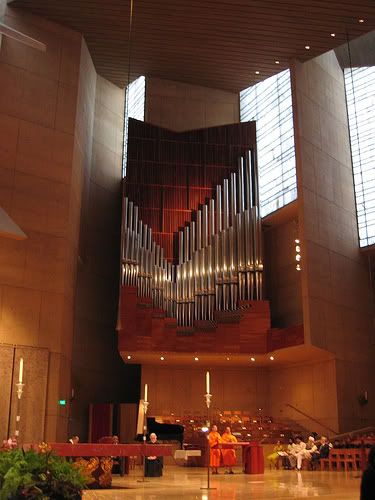 Olvera Street – Opened on Easter Sunday 1930 and referred to as "the birthplace of Los Angeles" (the actual site of the 1781 Spanish settlers' camp was southeast of here, closer to the Los Angeles River), 27 buildings of varying ages – including the oldest home in the city, the Avila Adobe, constructed in 1818 – help tell a story of the city's history within the context of a lively, modern-day Mexican marketplace. It was a hit from the get-go, and in 1953 was designated a California State Historic Landmark. The area remains a popular downtown Los Angeles tourist attraction (it reportedly attracts 2M+ tourists each year), and docent-led tours are available. (olvera-street.com/About-Us/about-us.html)
The Cathedral of Our Lady of the Angels – Opened in 2002 and located at Temple & Grand across from the Walt Disney Concert Hall, the first Roman Catholic Church to be erected in the western U.S. in 30 years was designed by Spanish architect Professor Jose Rafael Moneo. It is the third largest cathedral in the world, designed in a dynamic, contemporary fashion with virtually no right angles. A 50-foot concrete cross "lantern" adorns its entry, and at night the cathedral's glass-protected alabaster windows are illuminated and can be seen at a far distance. (olacathedral.org)
The Music Center – Located in the heart of downtown Los Angeles, the Music Center is home to the Dorothy Chandler Pavilion, Ahmanson Theatre, Mark Taper Forum and Walt Disney Concert Hall. Performances, tours and great dining await you at the Music Center. (musiccenter.org)
L.A. Live – Located across the street from the Staples Center and home to the Grammy Museum and the Nokia Theatre, this unique destination offers two hotels (a JW Marriott on floors 3-21 and a Ritz Carlton on floors 22-26 of a gorgeous blue-tinted glass tower) which are housed within the same building as luxury residential condominiums (floors 27-52). There are also several mid-to-high-scale restaurants, of course, in addition to a 14-screen cinema complex. Public tours are available. (lalive.com/visitor-center/tours-of-la-live)
Staples Center – Near the L.A. Live complex and home to two NBA teams (the LA Lakers and LA Clippers) as well as the city's NHL team (LA Kings), this is a happening place! Staples Center does not offer public tours.
Downtown Los Angeles – Print the Los Angeles Conservancy's self-guided walking tour map (laconservancy.org/tours/downtown/index.php4) or download LA Walks "Historical Tour" podcast (downtownlawalks.com/?f=podcast), and take to the streets to enjoy this area's architecture gems – from the Beaux Arts magnificence of the Biltmore Hotel to the Art Deco sophistication of the Southern California Edison Building and the Victorian ebullience of the Bradbury Building and Angels Flight.
Grand Central Market – In operation since 1917, this indoor collection of produce vendors, butchers, and food stands reflect the region's multicultural heritage. In August 2014, this historic California food hall was named one of Bon Appetit magazine's "Hot 10" restaurants of the year — in this case for the new life breathed into the concept by its unique (and utterly delicious) food court offerings. (grandcentralsquare.com)
Original Farmer's Market and The Grove – A beehive of cafes, stalls and shops, this open-air landmark has been a gathering place for Angelenos since the 1930s. The market is connected to The Grove in Los Angeles, a boutique outdoor shopping mall, by a free, six-minute tram ride. (farmersmarketla.com/)
Griffith Park – With over 4,107 acres, this is the largest municipal park and urban wilderness area in the U.S., and an amazingly large portion of it remains virtually unchanged from the days when Native American villages occupied the area's lower slopes. Today's the park offers numerous family attractions, an assortment of educational and cultural institutions and miles of hiking and horseback riding trails. (lacity.org/rap/dos/parks/griffithPK/index.htm)
Griffith Observatory – Owned and operated by the City of Los Angeles, Department of Recreation and Parks, the Observatory is located on the southern slope of Mount Hollywood in Griffith Park, just above the Los Feliz neighborhood. An LA icon, this national leader in public astronomy is also a beloved civic gathering place and one of southern California's most popular attractions. (griffithobs.org)
[ad name="300x250L"]
Los Angeles Zoo & Botanical Gardens – In Griffith Park and home to more than 1,200 animal species, including the Red Ape Rain Forest and Dragons of Komodo. (lazoo.org/)
La Brea Tar Pits – Located about halfway between downtown and Beverly Hills, a visit will teach you about Los Angeles as it was when animals such as saber-toothed cats and mammoths roamed the Los Angeles Basin 10,000-40,000 years ago. Rancho La Brea is one of the world's most famous fossil localities, recognized for having the largest and most diverse assemblage of extinct Ice Age plants and animals. (tarpits.org/)
Adamson House, Malibu – This classic Malibu home was built in 1930 for Rhoda Rindge Adamson and her husband, Merritt Huntley Adamson, and is located on one of Southern California's most beautiful beaches. Be sure to take the tour (the docents offer a wealth of information about now-defunct Malibu Pottery's magnificent tile work) and allow extra time to enjoy the grounds and the nearby beach. (adamsonhouse.org/)
Venice Oceanfront Boardwalk, Venice Beach – This stretch is rather like an outdoor circus, teeming with rollerblading jugglers, fire-eaters, body-builders and other talented, creative folks. (Click here to read about other Los Angeles beaches.)
The Huntington Library and Botanical Gardens – An oasis of art and culture set amidst 150 acres of breathtaking gardens. (huntington.org/)
The Gamble House – Used as a winter residence by David and Mary Gamble (of Proctor & Gamble fame), this three-story house is considered an Arts and Crafts architectural masterpiece. (gamblehouse.org/)
[ad name="728C"]
Santa Anita Park Horse Racing, Arcadia (about 15 minutes east of Pasadena) – Co-founded and built by movie mogul Hal Roach, Santa Anita Park was a popular haunt of early show business tycoons and movie stars and Hollywood's newest generation of movie, TV and music celebrities continue the tradition as both fans and horse owners. The park opens annually on December 26, with daily racing continuing through late April. Free Seabiscuit Tram Tours depart at 8:30 and 9:45am every Saturday and Sunday during the Santa Anita season. (santaanita.com)
Aquarium of the Pacific, Long Beach – One of the largest in the U.S., this aquarium focuses primarily on Pacific Ocean life forms and detours into Australian birds in its Lorikeet Forest section. Don't miss the panoramic film, Whales: A Journey with Giants (showtime information is available at the front desk or in .pdf format on the website in the "Plan Your Visit" section). (aquariumofpacific.org/)
Queen Mary Ship and Seaport, Long Beach – Historic, permanently berthed ocean liner (bigger than the Titanic!) open 10am until 6pm daily for self-guided and guided tours, including the "Ghosts & Legends of the Queen Mary" tour. (queenmary.com/)
Russian Foxtrot Submarine Scorpion, Long Beach – Moored next to the Queen Mary, the submarine is open for tours seven days a week and combined tours for the two vessels are offered. (russiansublongbeach.com)
Shoreline Village, Long Beach – Waterfront shopping and entertainment complex. (shorelinevillage.com/)
Wayfarer's Chapel, Rancho Palos Verdes – Rancho Palos Verdes is about a 30-minute drive southwest of Long Beach, but it should be worth it if you enjoy architecture. Designed by Lloyd Wright, son of Frank Lloyd Wright, this glass church is set in a redwood grove. (wayfarerschapel.org/)
If that list of Los Angeles tourist attractions doesn't have what you're looking for, be sure to check out the links below to information about other tourist attractions in nearby Orange County and San Diego.
Photo of Hollywood Walk of Fame by Sproston Green via flickr (Creative Commons); Photo of Our Lady of Angels Cathedral by Korean Resource Center via flickr (Creative Commons); Photo of Farmers Market by Californian Em via flickr (Creative Commons); Photo of Griffith Observatory by echo_29 via flickr (Creative Commons); Photo of Walt Disney Concert Hall by DonnaGrayson via flickr (deleted account) (Creative Commons); Photo of Long Beach from the Queen Mary by 4x4jeepchick via flickr (Creative Commons).
[ad name="300x250R"]
Related posts:
Los Angeles Amusement / Theme Parks
Note: Information in this article was accurate
when it was published, but hours, prices, etc.
change constantly. Please confirm details
with local contacts before traveling.
Was this article useful and/or interesting?
Would you please consider sharing it?
We appreciate it!