[ad name="320×100″]
This idyllic area's "Mother Lode" nickname pays tribute to its history as a top gold-producing region, but it could also be used to describe its abundance of natural and historic Gold Country tourist attractions. The hills and forests are a feast for the eyes, and evidence of the region's importance in California's history is present almost everywhere you look.
The list below will introduce you to some of our favorite Gold Country tourist attractions, and you should also visit the area's museums (see link in the "Related Posts" section at the end of this article) for a good overview of what California Gold County tourism is all about. You're going to have a great time traveling in and exploring California's Gold Country region!
Amador Flower Farm, Plymouth – Specializing in daylilies (over 650 varieties), the farm's 12 acres also include over 200 unusual perennials. (amadorflowerfarm.com)
Bodie State Historic Park, Bridgeport – Designated a National Historic Site and a State Historic Park in 1962, this 19th century ghost town is being preserved in a state of arrested decay and is a popular with photographers. (parks.ca.gov/?page_id=509)
Calaveras Big Trees State Park, Arnold – Some of the planet's largest living organisms. Tourists from around the world follow the well-trampled trails through the North Grove, but the remote South Grove's five-mile loop (10 miles from Highway 4) is highly recommended. (parks.ca.gov/?page_ID=551)
[ad name="300x250L"]
Columbia State Historic Park, Columbia – The term "state historic park" may be misleading; instead, think "amusement park meets living museum." This is a real working town – with shops, restaurants, theatres and even a fantastic hotel – and costumed docents wander the streets and realistically portray 1850-70s life. It's as if the entire town is frozen in time, just waiting for you to come experience it. Children and adults alike delight in climbing aboard an authentic stage coach, watching candy being made, sipping sasparilla at the town saloon or dipping their own candles. (columbiacalifornia.com)
Copperopolis Town Square, near Copperopolis – Once a thriving 1800's mining town, Copperopolis Town Square has been reborn with a blend of shops, restaurants and residential lofts. This new pedestrian-oriented development was designed to pay homage to the town's mining history within the context of a luxurious and convenient modern retail setting. (copperopolistownsquare.com)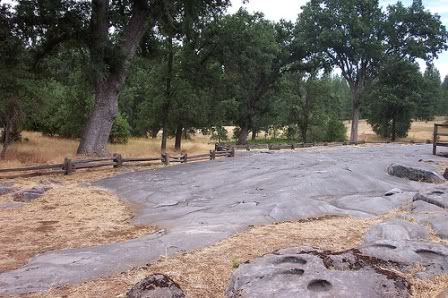 Indian Grinding Rock State Historic Park, Pine Grove (near Jackson) – Nestled in a valley of oak trees that once provided the native Americans who inhabited this area with acorns which they ground into flour, the park was created in 1968 and preserves the largest collection of bedrock mortars in North America. There is a museum and a Miwok village complete with a ceremonial hun'ge (roundhouse). The park's main grinding rock also features a number of decorative carvings (circles, wheels, animal and human tracks, wavy lines, etc.), some of which are believed to be 2000-3000 years old and are becoming difficult to see. (parks.ca.gov/?page_id=553)
[ad name="300x250R"]
Kennedy Gold Mine, Jackson – Open Saturdays, Sundays and holidays, March through October, you can gain new insight into the miner's way of life on the educational surface tours offered here. If the mine is closed during your stay, you may still want to visit to see the mine's Kennedy Tailings Wheels that once lifted tons of gravel over two hills. The relics are popular with photographers, who often frame the hillside mine structures through the standing wheel's giant spokes. (kennedygoldmine.com)
Marshall Gold Discovery State Historic Park, Coloma – This park includes a working, to-scale replica of Sutter's Mill, and a pathway takes you to the actual site where the original mill once stood. Further down the path is the site on the American River where James W. Marshall pulled out the first piece of gold, the beginning of the California Gold Rush. Historic photographs in the nearby museum show the site's original buildings against a backdrop of the same hills, mountains and streams you see today. (parks.ca.gov/?page_id=484)
Mono Lake, Lee Vining – This personal favorite Gold Country tourist attraction is a dry Great Basin oasis and vital habitat for millions of migratory and nesting birds. It is also one of the oldest lakes in the western hemisphere — a hauntingly beautiful, immense inland sea. The lake fills a 695-square mile natural basin. (monolake.org)
The Preston School of Industry (known as "The Castle"), Ione – Built between 1890-1894 to serve as a school for juveniles referred by the courts, The Castle is currently not in use and the grounds are not open to the public, but there are several vantage points in Ione for photographing this famous landmark. (ione-ca.com)
Railtown 1897 State Historic Park, Jamestown – Home to one of the nation's last authentic, operating railroad roundhouses, Railtown's locomotives and cars have appeared in over 200 film and TV productions, including High Noon, Back to the Future 3 and Petticoat Junction. (csrmf.org/railtown)
Silver City Ghost Town, Bodfish – A composite "ghost" town with buildings from the mining camps of Keyesville, Whiskey Flat, old Isabella, Claraville, Hot Springs, Kernvale, Miracle and Southfork. Open daily during the peak travel season and weekends-only from November 1 through April 1. (lakeisabella.net/silvercity/)
The area's wineries are an increasingly important aspect of California Gold Country tourism, and many Gold Country towns themselves should be considered tourist attractions, as well. Walking tour maps are available for many of them at local chamber of commerce offices (e.g., at the Jackson Chamber of Commerce office, 125 Peek Street, for Jackson, CA and at the Sutter Creek Chamber of Commerce office, 11 Randolph Street, for Sutter Creek, CA). Maps to Angels Camp's 52 historic buildings and sites are available at the Calaveras County Visitors Center (1192 South Main Street in Angels Camp, CA), while this page provides access to a map for several Coloma area walking tours, including the points of interest at the Marshall Gold Discovery State Historic Park.
Photo of Calaveras Big Trees State Park by dotpolka via flickr (Creative Commons); Photo of Indian Grinding Rock State Historic Park by artq55 via flickr (Creative Commons); Photo of Railtown 1897 State Historic Park by willsfca via flickr (Creative Commons).
[ad name="300x250R"]
Related posts:
Sierras and Gold Country Vacation Ideas
Sierras and Gold Country Museums
Planning Your Gold Country Vacation or Getaway
California's Sierras and Gold Country region includes other popular travel destinations like Lake Tahoe and Yosemite, as well as Sequoia and King's Canyon National Parks. Additional articles are included in the guide's Sierras and Gold Country Vacation and Travel Guide to help you plan your travels to and around those areas.
Note: Information in this article was accurate
when it was published, but hours, prices, etc.
change constantly. Please confirm details
with local contacts before traveling.
Was this article useful and/or interesting?
Would you please consider sharing it?
We appreciate it!